What Is Ransomware? The Must-Knows.
What is ransomware? Well, for starters it is one topic that doesn't seem to be losing momentum. Every single day, businesses across all industries are paying ransom to get access to their data from cybercriminals.
These incidents can severely impact business processes and leave organizations without the data they need to operate and deliver mission-critical services. Here are some more facts about ransomware that every business owner should be aware of:
Ransomware Has Evolved and Comes In Many Varieties
Ransomware is not malware. Malware is an umbrella term used to refer to a variety of forms of hostile or intrusive software. This includes computer viruses, worms, trojan horses, ransomware, spyware, adware, scareware and other malicious programs. It can take the form of executable code, scripts, active content and other software.
While ransomware is a form of malware, it's definitely unique in what it does. It is a malicious virus that keeps your data encrypted until ransom is paid. This ransom is usually paid in bitcoins.
As a Business Owner, it's Crucial to Care About Ransomware
As a small or medium-sized business, it's crucial that you care about ransomware. On average there are more than 900,000 ransomware detections each year (Symantec). Ransomware is also pretty contagious, like the flu. As opposed to individual devices, more ransomware attacks are spreading across entire networks, which adds to the devastating impact it has on business.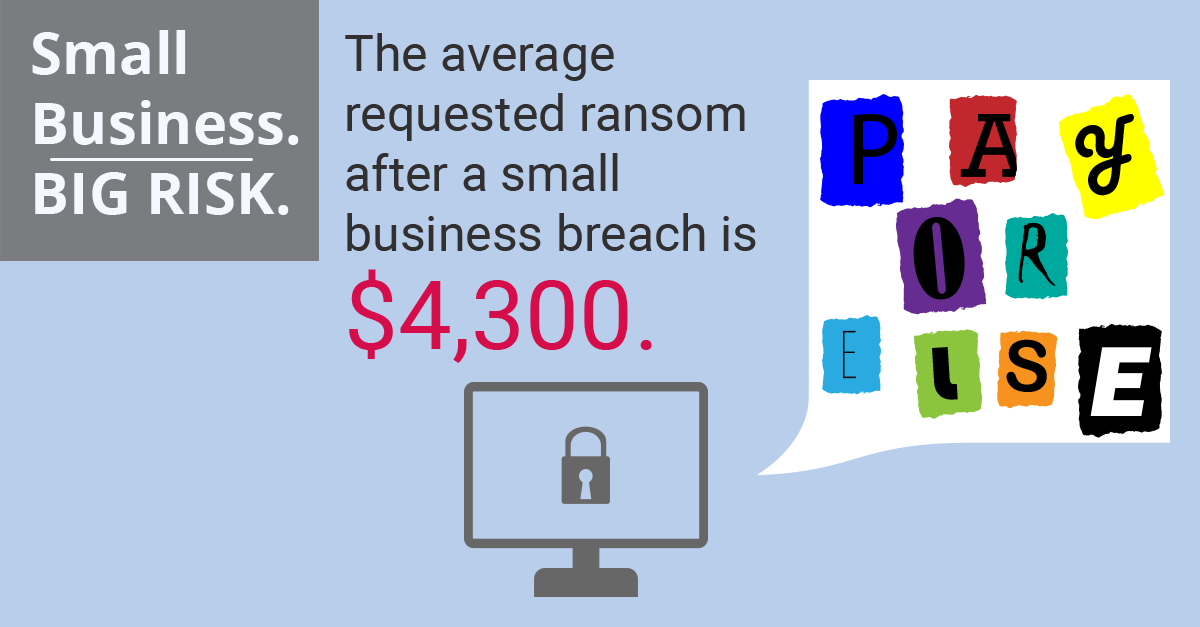 It is not cheap to recover from a ransomware attack, even if you have cyber insurance. Businesses lose an average of $133,000 per year in recovery costs following ransomware incidents. As a small business, it's painful to the bottom line. A lot of experts say, with ransomware it's not a matter of IF but WHEN.
What Are My Options As a Business Owner?
Contact a Managed IT Service Provider
Schedule a call with a managed IT service provider, like us. We have the experience, tools and know how to help create a comprehensive approach to mitigating your risk and ensuring business continuity.
Expand Your Knowledge
Watch our recent webinar, The Rising Threat of Ransomware — How To Enhance Cybersecurity In Your Workplace, to learn more.
Educate Your Employees
Begin building a cyber aware culture with your employees. Educating your employees, who are the weak link, can go a long way to reducing your cyber threat exposure. How do you do this? Invest in Security Awareness Training.
Network Security Assessment
Have a network security assessment performed to provide you with the key insights needed around your current cyber vulnerabilities. The output is a thorough security assessment report that will identify your gaps and opportunities.
Contact Verity IT today! We have the experience, tools and know how to help create a comprehensive approach to mitigating your risk and ensuring business continuity.
Ready to get started with Managed IT Services?