True 24/7 Managed Detection & Response
Disrupt the hacker timeline.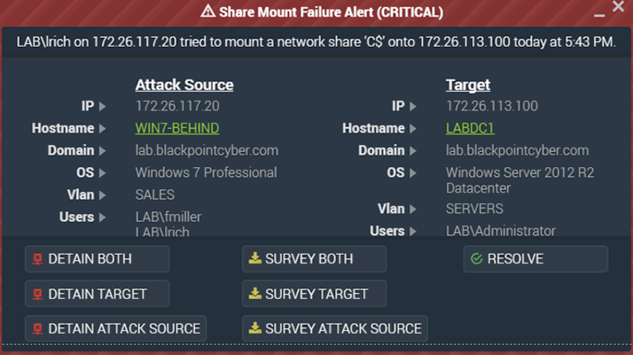 Managed Detection & Response
Verity IT is a fully integrated partner with Blackpoint Cyber, utilizing their 24/7 managed detection and response (MDR) platform that combines network visualization, tradecraft detection, and endpoint security to rapidly detect and neutralize lateral movement in its earliest stages.
Blackpoint's MDR solution is the first contextually aware breach detection and response program on the market. With unparalleled visibility into hacker tradecraft, lateral spread, and remote privileged activity, their MDR stops advanced attacks immediately.
Businesses need a 24/7 MDR that fights back threats within minutes and closes the gap between the identification of an event and the actual response and remediation. By immediately isolating endpoints, Blackpoint's technology stops the threat from moving laterally into other systems.
Having a SOC means responding faster, minimizing damages and costs, and safeguarding data and business continuity.
Tradecraft Detection. Monitor for tradecraft that could lead to zero-day breaches and live-off-the- land techniques.
True Response. Provides the human element of immediate response to curb breaches and cyberthreats. Attacks are stopped by humans.
24/7 Monitoring. Manages access to your company network. Stop threats anytime.
Average Cost of an SMB Cyber Attack: $54,650
Evolving the security of your environment
From 2021 to 2022, 98% of companies have experienced at least one cloud data breach.
True 24/7 MDR Securing Your Cloud
Focus on your day-to-day operations knowing that our 24/7 security operations center (SOC) leverages MDR to safeguard your cloud platform. While most solutions on the market alert you to take action, our SOC partner provides fast, active response to adversarial threats on your behalf. Cloud Response supports Microsoft's 365 service, namely, Azure Active Directory (AD), Exchange, and SharePoint.
Why Cloud Response?
Extends MDR capabilities into Microsoft's 365 cloud service.
Enables our 24/7 security operations center (SOC) to see contextual data within your cloud environment and provide immediate and active response against anomalous behavior.
Allows Verity to set up policy features to implement cyber hygiene processes across all users and monitor events through custom notifications.
Looking for a way to streamline security and compliance?
Combine the power of MDR with intelligent logging
During a security event, cutting down on response times is crucial to safeguarding sensitive data. While logging is a start to collecting data and ensuring visibility across an IT environment, true value is in real-time data interpretation allowing for immediate action.
True, 24/7 Managed Detection and Response (MDR) enhances the value of security logging. Maximize the power of integrated logging and compliance by pairing it with active threat hunting and immediate response.
To help businesses meet the growing demand for both compliance and robust cybersecurity, Blackpoint Cyber designed LogIC – an MDR add-on focused on logging with integrated compliance. LogIC is built to be hyper-efficient and provide real-time data collection, helping you collect the data needed for future audits while keeping you secure.
Robust Compliance Framework Support
LogIC's hyper-efficient logging architecture supports real-time collection of device logs, file integrity monitoring (FIM) events, and any other application or system that supports syslog*. It currently supports and maps to PCI-DSS, HIPAA, NIST 800-171, CMMC, and CISv8 security frameworks while storing your log data as read-only in 3 different zones with standard AES-256 encryption.
With LogIC, we auto-map against hundreds of compliance requirements all at once, so you can understand where your current security products and services are covering you in terms of compliance. Trust LogIC to make your journey towards regulatory compliance easier.
Collected logs are stored in compliance with SEC rule 17a-4, PCIDSS, HIPAA/ HITECH, FedRAMP, EU GDPR, and FISMA data storage regulations.
Includes 365 days of hyper- optimized, complimentary log storage with options for additional log retention durations.
Ready to get started with Managed Detection & Response Services?