Security Awareness Training
Empower your employees — protect your business.
Did you know users are the weakest link when it comes to cybersecurity?
Are you training your team to recognize cyberthreats?
65%
---
of ransomware attacks were delivered via email.
90% of security breaches are inadvertent, unintentional and caused by human error. Security Awareness Training empowers your employees with the knowledge and skills to stay cybersecure at work and at home. With hundreds of awareness and training resources and phishing simulations, you'll have everything you need to prepare employees to detect, report and defeat cybercrime.
Given a lack of education and experience, users

are the weak

est

link in security

— are you training your team to recognize cyberthreats?
Reduce your business's exposure by i

nstitu

ting

a Security Awareness Training Program

.
Security Awareness & Training for Everyone
With Verity IT's Security Awareness Training it's simple to personalize, automate, integrate, analyze and improve your cyber culture — the way that works best for your business and your employees.
Expansive Course Content
1,000+ Phishing & Data Entry Templates
Reporting to Help Track Progress
61% of businesses reported a cyberattack in the last year — does your business have a cyber readiness plan?
A 12-Month Plan for Creating a Culture of Security Awareness
Developed by a team of experienced security education professionals and aligned with the NIST Cybersecurity Framework, this 12-month program will help you achieve cybersecurity success with phish rates as low as just 1%.
Month 1: Foundational Course
Month 2: Diving Deeper Into Phishing
Month 3: Password Security
Month 4: Malware
Month 5: Social Engineering
Month 6: Internet Security
Month 7: Phishing Review
Month 8: Privacy & Data Security
Month 9: Removable Media
Month 10: Mobile, Wireless & Remote Access
Month 11: Security Awareness Review
Month 12: Advanced Security Awareness
Is your industry governed by specific regulations? Let us know, we can build custom programs to include training on specific regulations such as PCI compliance, HIPAA and more!
Multi-Layered Security Awareness Training
Inspire Cybersecurity Behavior Change

Go beyond annual training by inspiring a behavioral change and a culture of security. Our library of 700+ resources and training kits allow us to layer training and keep learners engaged year-round.
Deliver the Right Training to the Right Employees, When It Matters Most
Educate employees based on their role, security aptitude and preferred learning style. Utilize dynamic groups to personalize education based on lesson retention and deliver training when employees fail assessments, click phishing simulations or trigger security events.
Stay Compliant With Training Aligned With NIST Guidelines
Strengthen your cyberaware culture leveraging our security awareness curriculum with compliance and industry-based training. Each training module is mapped to one of nine core security behaviors derived from the NIST security awareness and training guidelines to help guide your curriculum.
Turn Phishing Clicks Into Teachable Moments
Deliver training the moment your employee clicks a phishing link. Highlight phishing red flags or share educational modules to deliver training in the teachable moment and reinforce good security habits.
Set Rules to Automatically Deliver the Most Relevant Training
Sync with Active Directory and use segmentation rules to automatically deliver the most relevant phishing simulations based on learner location, language, risk score or any custom learner value.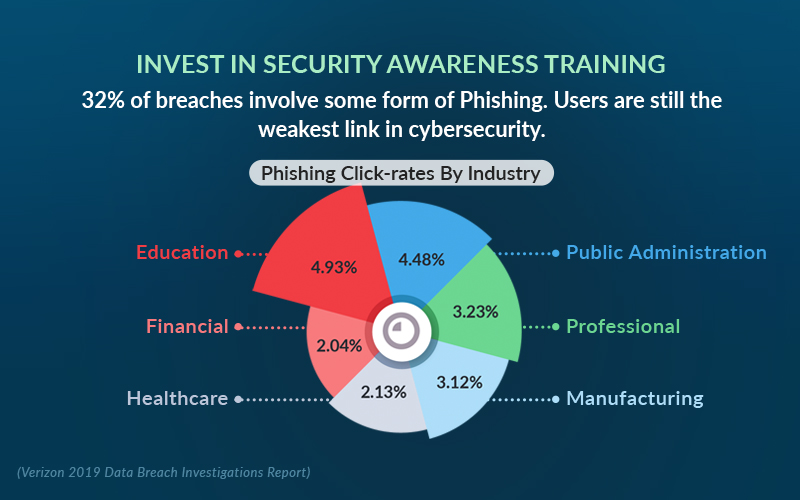 Simulated Phishing Attack Types
Drive-By
See if your employees take the bait from drive-by attacks built to draw interest, create a sense of urgency and generate a click.
Data Entry
Redirect clicks to a spoofed landing page to see if employees enter login credentials or sensitive information.
Business Email Compromise (BEC)
Send targeted phishing emails and enable reply tracking to replicate Business Email Compromise attacks and detect data patterns shared in replies.
Spearphishing
Use dynamic variables to include employee name, manager, company information, location and more to simulate targeted attacks.
Malware & Malicious Attachments
Include attachments and potentially dangerous file types such as .EXE and .DOCM to teach employees the dangers of attachments and malware.
USB
Load Microsoft Word and Excel macro files on your USB drives and record all employee interaction with planted drives.
A Smarter Way to Manage Security Awareness Training With Measurable Results
We help measure your organization's compliance score, phish rate, reported emails and more to share progress with your business stakeholders, prove success and identify knowledge gaps before breaches occur. Reduce your organization's phish rates to as low as 1%.
Our training platform uses a comprehensive approach to security awareness education. Using realistic phishing simulations and immersive awareness training, we'll transform your workforce into guardians of critical data and infrastructure.
We find that most teams start with a phish rate of about 29%. Starting with our immersive phishing simulator, we'll drop your team's phish rate to 7%. When we supplement the phishing campaigns with our educational modules, we've seen phish rates drop as low as just 1%.
Looking at the numbers, it's easy to see how a comprehensive approach to security education is the most effective route to keeping your critical data secure from cyberthreats.
---
Ready to Get Started with Security Awareness Training?