A Guide to Security Awareness Training for Businesses
Users are the weakest link in security — are you training your team to avoid cyberattacks? ?
What Is Security Awareness Training
Cybersecurity awareness training for employees is a process for educating employees about how to protect themselves and your company from attacks.
Security Awareness Training consists of two major components. The first is cybersecurity training courses. Online security awareness training is a proactive approach to prepare employees for cyberattacks they are most likely to face. A security awareness program includes computer-based training modules, interactive exercises and assessments covering the core cybersecurity topics each employee should be familiar with.
The second component of Security Awareness Training is simulated phishing training. Simulated phishing programs deliver realistic email templates to employees to see how they behave when a phishing email hits their inbox. Employees who click a phishing email or reveal sensitive information are delivered training in real-time to help them avoid phishing attacks in the future.
A good Security Awareness Program should educate employees about corporate policies and procedures for working with information technology (IT). Employees should receive information about who to contact if they discover a security threat and be taught that data as a valuable corporate asset. Regular training is particularly necessary in organizations with high turnover rates and those that rely heavily on contract or temporary staff. Confirming how well the awareness program is working can be difficult. The most common metric looks for a downward trend in the number of incidents over time.
Even though it may not be required by small and medium businesses for compliance reasons, they can benefit from training their employees to avoid cyber incidents through phishing attacks, account takeovers, or other well-known means that cybercriminals use to steal company assets.
61%
---
of businesses reported a cyberattack in the last year — does your business have a cyber readiness plan?
Why Security Awareness Training Is Important
For many businesses, technology is moving faster than their ability to keep their business secure. 63% of professionals report they don't have enough security training to keep up with risks and for the third year in a row, the percentage of security incidents attributed to human error is on the rise. With the rate of learning falling behind the pace of technology change, employee security education remains one of the most critical layers of security defense available to your organization today.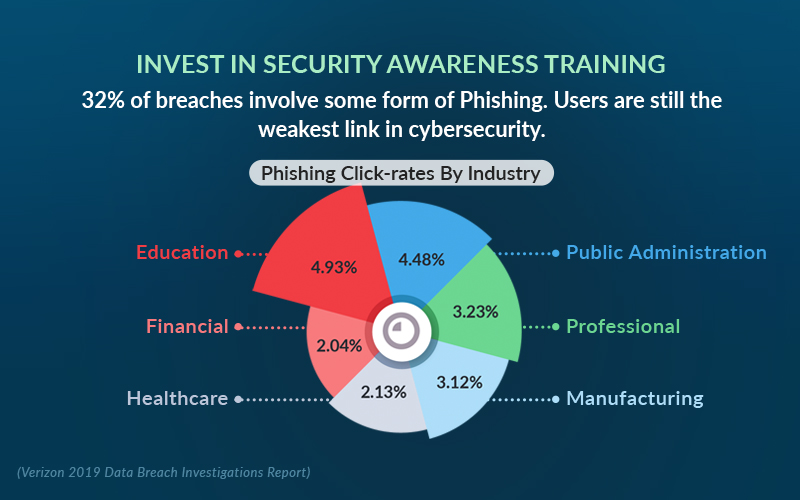 What Is the Main Purpose of Security Awareness Training?
A security awareness training solution should be designed to meet three key objectives: 
Educate employees and motivate behavior change with Security Awareness Training. Training should include industry- and role-based training resources to help deliver engaging, relevant training to every member of your organization.  
Empower employees to detect and report phishing attacks. Building simulated phishing campaigns to teach employees how to avoid the most dangerous phishing threats they face. 
Track compliance, assess security risk and prove training success. We recommend starting with a base line. A training platform should make it easy to track and share your organization's compliance score and phish rate. The platform's pre-built reports and charts should help you identify behavioral trends over time and prove the success of your program at the organization, department and individual learner level.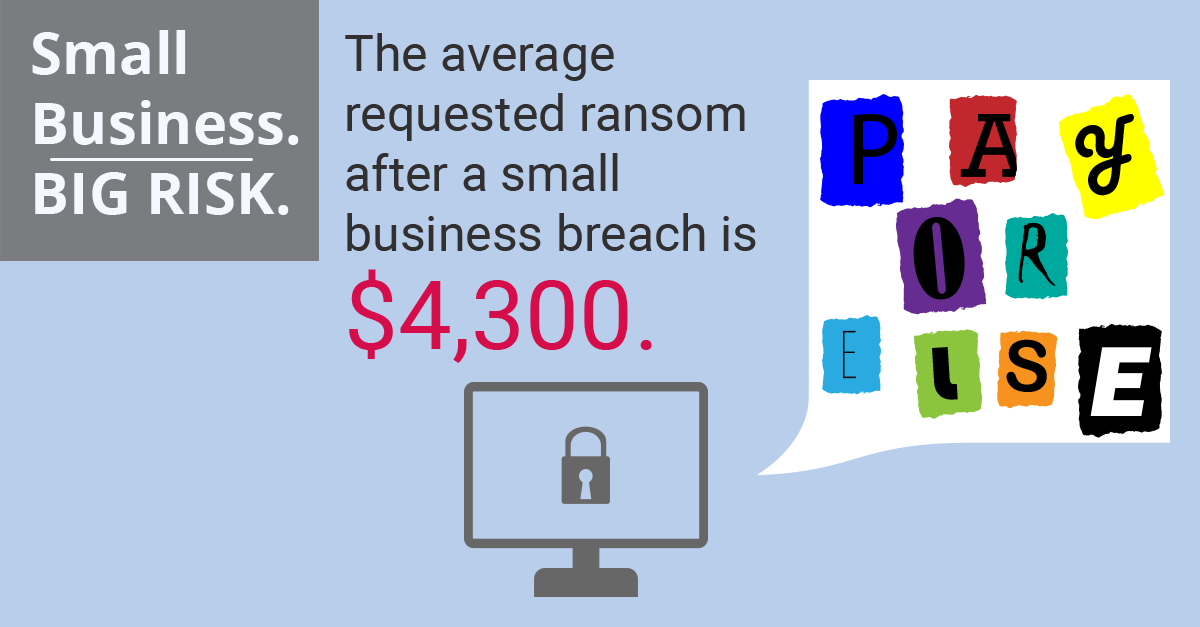 Methodologies to meet these objectives include: 
Why Security Awareness Education and Training Is Important Within Organizations
The vast majority of cyberattacks happen to small and medium-sized businesses. In fact, 60% of small businesses fold within six months of a cyberattack. For organizations that have experienced a data breach or ransomware attack, the benefits of security awareness training couldn't be more clear. But for organizations that only run Security Awareness Training to remain compliant, or businesses/security teams that have never run an employee training program, the benefits may seem abstract. With many organizations facing understaffed IT and security departments with limited time and budget, it's smart to ask, "Do the benefits of Security Awareness Training outweigh the costs?".
Obviously, Security Awareness Training does not generate revenue. Instead, financial gain is measured as the dollar value saved as a result of reduced cyber risk.
Running a layered awareness and training program and building a culture of cybersecurity at your organization takes planning and coordination but it doesn't have to be hard.
Verity IT offers a number of Security Awareness Training options.
According to Osterman Research, employees who receive Security Awareness Training are significantly better at recognizing security threats than those who have not received training.
Percentage of IT/security professionals reporting employees as "capable" or "very capable" of recognizing cyberattacks.
Furthermore, with 32% of breaches involving phishing attacks (which are often indefensible by security tools) it is no surprise that NIST recommends Security Awareness Training for every organization.
Is Free Security Awareness Training Okay for My Business?
I think we all know the answer here. Your most important asset is probably your business, followed closely by your employees. The ROI from investing in a security training and threat awareness program is a no brainer. So why go with free, when we know that free is not going to provide you with the right education, tools and reports to protect your most important asset.
When It Comes to Security, USERS Are the Weakest Link — Are You Training Your Team to Recognize Cyberthreats?
How to Train Employees on Cybersecurity
It's tempting to picture a perfect security program that ensures your workforce never clicks on a suspicious link or downloads a malicious attachment but it's important to remember that security awareness is not an all-or-nothing effort. When building your human firewall through Security Awareness Training, incremental gains are important. Following a few best practices can help you stack your incremental gains and strengthen your human firewall.
Don't just aspire for security awareness. Inspire the behavioral change required to keep your organization safe from security threats. While ability is the first step towards behavioral change, your workforce must be motivated to turn security best practices into routine action. Even simple gestures such as sharing what interests you about security, incentivizing the right behaviors and celebrating moderate gains can motivate your workforce and inspire behavioral change.
What is the right message, when should you send it and through what channels? Focus on the frequency of messaging, the relevance of your information and the engagement of your content.
Top-down support is important for security awareness success. Communicate your efforts to executives in the most effective way. Executive support is an important factor in ensuring the long-term success of your security awareness efforts. When executives see security awareness as a core element of organizational success, it becomes easier to to prioritize and support your program.
Inspect what you expect. Use all data at your disposal to track progress and measure the success of your security awareness efforts. When running a security awareness campaign, it is important to track training participation, phishing training success and assessment scores. Taking full advantage of your program metrics allows you to become more strategic and tactical with your program while giving you the data to demonstrate value to your organization.
Annual, required security awareness training and one-off efforts don't work. You need a dynamic roadmap to sustain security awareness momentum and behavioral change in the long term. Long-term behavioral change takes time to take hold. Plan your Security Awareness Program to span at least one year to keep security awareness top of mind and drive lasting behavioral change.
Don't become a statistic, get security awareness training for your employees.
What Should a Security Awareness Program Include?
Determining the answer to this question is an important first step but it still leaves many wondering exactly how to run a training program, the best ways to educate employees and even the most important cybersecurity topics to cover.
Leaning on an established framework to build and mature your security awareness and training program can help. That's where NIST comes in.
What Is NIST?
The National Institute of Standards and Technology (NIST) is an agency within the United States Department of Commerce. NIST serves as the U.S. national laboratory, promoting innovation and industrial competitiveness in numerous industries by setting measurement standards, performing research and building organizational frameworks — including frameworks to help organizations structure and mature their Security Awareness Training Programs.
Security Awareness Training Topics
NIST Special Publication 800-50 recommends security awareness and training covering the following nine topics:
Phishing
Password security
Safe web browsing
Social engineering
Malware
Mobile security
Physical security
Removable media
Working remotely
Although each of the core cybersecurity topics can be broken down into detailed sub-topics, this list serves as a foundational training recommendation for all employees.