A Comprehensive Guide to Managed Services
The purpose of this guide is to uncover everything a small business owner needs to know about managed IT services, including the different types of solutions that are out there. At the conclusion of our Comprehensive Guide to Managed Services, our goal is that you will be able to make an educated decision on whether or not managed services are for you and your business.
Managed services is a broad term that can encompass a variety of things. In this Comprehensive Guide to Managed Services we will take a look at managed services as it comes to IT. In the case of IT, managed services is when a third party IT provider, also known as a Managed Services Provider (MSP), manages all or some of a business's IT needs.
What Is a Managed IT Services Provider?
A managed service provider (MSP) is a company that either provides on-site, or in most cases remotely manages a customer's IT infrastructure and/or end-user systems, typically on a proactive basis and under a subscription model. As technology evolves, so do the services of manager service providers.
How Managed IT Services Fulfill the IT Needs of SMBs
Small and middle market businesses must balance a range of challenges in managing their IT function because they usually don't have the skills or resources required to fully meet their needs. To address this problem, many businesses have turned to the support of managed services providers (MSPs). Below are the top drivers why SMBs are leveraging managed services.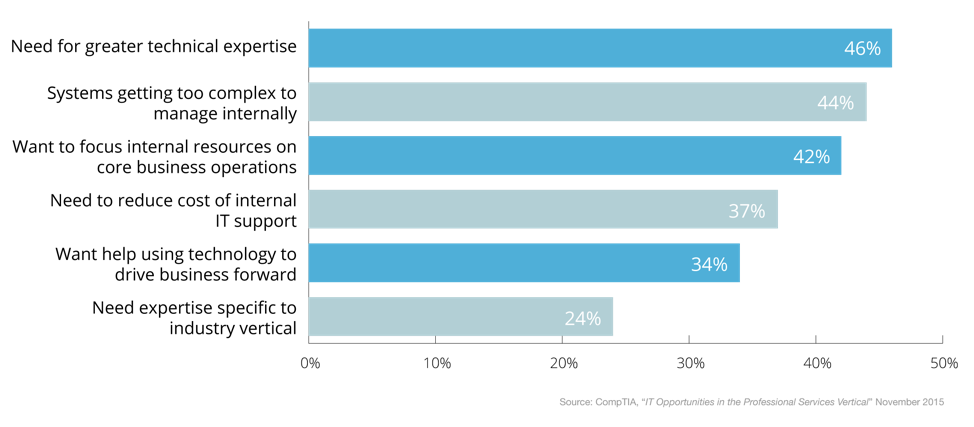 It is important to remember, there is no one solution when it comes to managed services — a business can outsource one IT need, such as help desk services, or they can outsource all their IT needs with a managed package that is specifically designed to act as a full technology team.
Ways a Managed Services Provider Can Support Remote Workers
With the help of a managed services provider, you can easily transition your employees to a remote work environment through a variety of IT solutions. Being a small business owner, it's crucial to be able to support your employees as they work from home in order to efficiently have proper communication, technical support and access to company data. Making this adjustment can be difficult when you don't have the proper tools, solutions or assistance. Partnering with a managed services provider will give you access to solutions specific to your business that enable you and your staff the ability to work without interruption or complications throughout the day.
Managed Communication
Your team needs to seamlessly communicate in simple ways and that's where managed communications or unified communications come into play. You're able to combine voice, video, chat and email all into one service making the process straightforward and painless. With the help of a managed services provider, you can easily transition your employees to a remote work environment.
Virtual Private Network (VPN)
One of the most important components that allows your employees to successfully work from home is a virtual private network. This extends a private network across a public network, and enables users to send and receive data across shared or public networks as if their computing devices were directly connected to the private network. Secure remote access provides a safe, secure way to connect users and devices remotely to a corporate network.
Hosted VoIP
VoIP service for your business is proven to be useful for remote workers as it provides essential features your staff will need — features that will enable you to effectively communicate with your employees and with each other. With the right VoIP and internet solutions in place, your business can connect better, accomplish more and achieve voice and data cost improvement.
Help Desk Support
Helping your employees adjust to working from home by providing them with help desk support services will really make all the difference. It's not easy and things can get tricky when it comes to any type of computer problem. By having access to help desk support services for PC and Mac, you're able to have solutions to problems like password resets, antivirus or software updates.
Working With a Managed IT Services Provider
To help you get comfortable working with a managed IT services provider, we have compiled a list of questions to ask your potential managed service provider.
1. What services are covered under my contract, and what lies outside of it?
Asking this early on in the process is the best way to protect yourself from any unforeseen expenses later on in the partnership. Having a clear idea of what you need is going to save you a lot of time because managed services providers can differ on how they provide services, so it is important to understand what you need for your business. The MSP should be able to assist with this process. The goal here is not to be surprised with any unknown costs at the end of the month.
2. How will your services help support the growth of our business?
All businesses are focused on growth and driving new and sustained revenue growth. When selecting a managed services provider, you want to choose an MSP that will make assisting your growth plans easy. As you experience growth, you will naturally add more staff, so you want an MSP that will make it easy and affordable to add new workstations, employee accounts or locations.
3. Will your managed services keep us at the forefront of technology?
One thing is certain, technology will continue to change and evolve. You need a managed services provider that is able to adapt to both growth and change. This means the MSP has a plan to keep your business current with technology, based on your budget and needs.
4. Where is their help desk located? What is coverage like?
Help desk solutions are one of the most popular managed IT services out there today. It is important to understand though that all help desks are not created equal. One critical, and easily identifiable, difference is where the help desk is located. Is the help desk U.S.-based or in a geographic area prone to natural disaster?
Additionally, it's important to know what the operating hours are for the help desk. You should have a 24/7 help desk service because technology never sleeps, and neither does commerce. If your entire email network goes down on Christmas day, you are going to need to call the help desk, and if no one is there because you didn't invest in a 24/7 help desk system, you are going to regret it.
One in five small businesses experienced a shutdown after being hit with ransomware.
5. How do you keep us updated on our IT experience?
We recommend that you make your communication expectations clear to the managed services provider from the beginning. Let them know that you expect to be included in certain events or items related to your company's IT. Good MSPs want you to be involved and will have set procedures on how they communicate to keep you in the loop. Here are some standard practices you can ask about:
Reports: Are they included in your service and at what intervals will they be provided (quarterly, monthly, weekly etc.)?
Meetings: Do they offer recurring meetings as a way to stay up to date?
Troubleshooting: This is more personal preference, but do you want your MSP to come to you when there is a problem to propose solutions or do you just want them to handle the problem?
Are Managed Services Right for Your Business?
A study by CompTIA found that nearly two-thirds of organizations are using managed services for at least one IT function — not too surprising considering the many options managed service providers offer and the increasing dependency on technology by businesses. MSPs provide a wide range of services and features, but they also compliment in-house IT staff.
Does that mean outsourcing some or all of your IT needs to a managed service provider is right for your business though?
Below are some helpful considerations when evaluating your managed services options:
Do you feel like your in-house IT team could use extra time to focus on big-picture projects like business development, strategic efforts or employee productivity?
Are you looking to move your data to the cloud?
Is your business large enough to justify a full in-house IT team (troubleshooting, security engineer, software development, etc.)?
Do you currently have a disaster contingency plan for your data?
Do you like the idea of a fixed monthly fee for all of your IT needs?
Could your employees benefit from a more collaborative and flexible communications system?
Do you have remote workers? Do you plan to have remote workers in the future?
Does your business work with sensitive data?
Do you see your IT needs elapsing your current IT solution?
If you answered yes to one or more of the above questions, you may want to explore managed services further.
Ready to get started with Managed IT Services?