The Hidden Cost of Slow Computers
Are you at risk of performance issues and compromised efficiency?
Just like humans, as computers get older, they tend to run slower. As a result, your employees are at risk of having their performance and efficiency compromised.
By now, you've likely told your employees that their computers "aren't that old" or "we just got this machine a few years ago", when referring to equipment that is nearing eight years old.
This struggle doesn't just affect your bottom line and level of service – it's inadvertently wasting your time. More importantly, if you work with a Managed Service Provider, you may be in jeopardy of violating their service requirements.
What Are the Risks of Slow Computers?
Your employees are at major risk of having their performance and efficiency compromised as a result of assets that are degrading in their performance. Based on a recent Microsoft study, a PC beyond 4 years of age: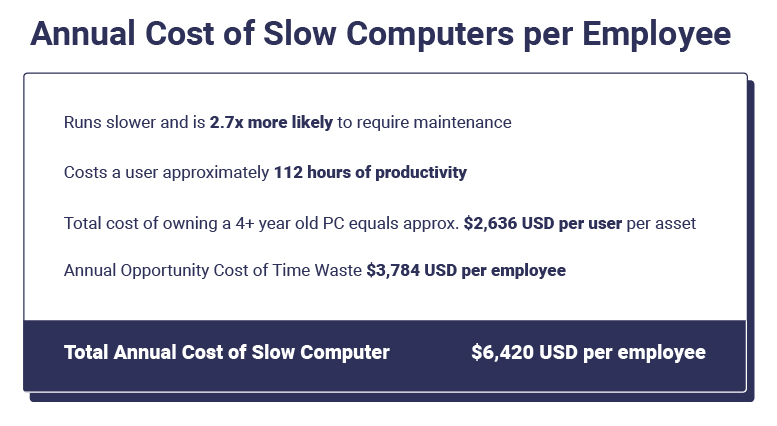 To put it in perspective, it's cheaper to replace two or more PCs than keeping an old PC for more than 4 years.

In conclusion, with proper reporting, asset rotation should be easy. Knowing the maturity of your assets and engaging in diagnostic discussions with your IT provider is of top priority when it comes to protecting your devices.
Need a budget-friendly alternative to replacements?
Where Do I Start?
To put it simply, aged IT networks and operating environments are major risks to your business. They are extremely expensive to replace and maintain. The primary function of asset lifecycle management is to maximize the value of an IT asset and replace it at the right time! That said, buying all new equipment isn't always financially feasible.
What are your options if you are not ready to replace?
We recommend ensuring all your devices have warranty coverage. This is far less expensive than replacing all your devices and important for the following reasons:
Safeguards business continuity

Decreased downtime due to hardware issues, not covered by your IT service provider

Low effort on your part

Access to 24/7 service desk with immediate parts dispatch
Want to hear more about the true cost of slow computers and our warranty services? Let's connect.
Ready to get started with Managed IT Services?