Data Backup & Disaster Recovery
Our Backup Services Ensure Continuity for Your Business
What Does Continuity Mean for Your Business?
Imagine you are a medical practice that can't book appointments because your server is down or a law firm that needs specific case files, but those files were recently "locked-up" by ransomware — how will you stay in business? How will this impact your customer experience? Most importantly, how will this impact your revenue targets?
Now imagine getting all your data back within a matter of seconds. It's no longer a matter of "if," but "when" a real-world threat will compromise your business data. Between natural disasters, viruses, user error and ransomware, these threats are becoming ever-present.
Avoid Downtime With Verity IT's Backup Solutions
Hybrid-Cloud Based Backup & Disaster Recovery

 
In short, hybrid-cloud backup provides a combination of cloud data backup and storage with local backup. The cloud storage is integrated with the local backup to ensure your critical data is protected in the event of a disaster.
How it works: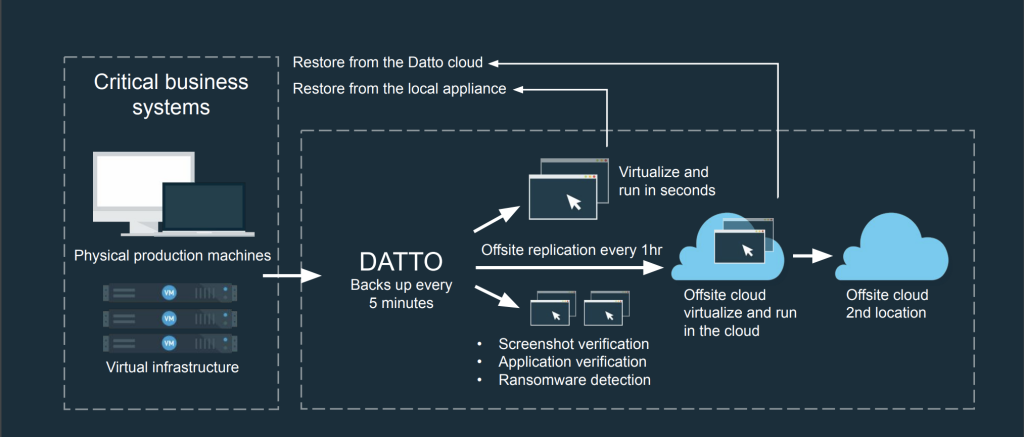 Why Do You Need Hybrid-Cloud Backup?
70% of the Business Apps Organizations Use Today Are SaaS-Based
SaaS Backup for Microsoft 365 and Google
What Is SaaS Backup and Why Do You Need It?
An increasing number of organizations are moving to SaaS platforms like Office 365 and G Suite. It is a misconception, however, to assume that your data in the cloud is secure. Still, the question remains: why is backup just as important in the cloud as it is in traditional, on-premises IT systems? Here are three reasons:
Stay One Step Ahead Potential Disasters
Shared Responsibility Model
If you use SaaS applications, it is crucial to know that cloud service providers follow a shared security responsibility model. This means that SaaS providers are responsible for application uptime and availability — and you are responsible for the protection of your data.
While there are several factors responsible for data loss, download our SaaS Protection Buyers Guide.
All-In-One Backup Solution
Our SaaS Protection solution ensures that Verity IT can access, control, and most importantly protect our clients' Microsoft 365 data. Our SaaS Protection for Microsoft 365 offers an all-in-one backup solution for Exchange, OneDrive, SharePoint, and Teams.
We protect your data through:
Automated, Continuous Backups
Point-In-Time Restore and Export
SaaS Protection delivers backup, search, restore, and export for:
Microsoft 365
Exchange
Tasks
OneDrive
SharePoint
Teams
Google Workspace
Gmail
Google Drive
Calendar
Contacts
Shared Drives
The Results of Data Loss Can Be Devastating for a Business.
Eliminate data loss and get your employees back up and running quickly with Cloud Backup for their PCs. This reliable, image-based, all-in-one BCDR solution provides backup direct to the Cloud, screenshot verification, and multiple layers of recovery capabilities including Bare Metal Restore, and File/Folder Recovery. In the event of a lost or stolen PC, ransomware attack, or other disaster, Verity IT can quickly and easily get your employee up and running, exactly as they had been before.
All-in-One BCDR for PCs
Whether it's because of a ransomware attack, lost or stolen device, or accidental deletion of a file, Verity IT can assist with protection of endpoint business data on your Windows 7 and Windows 10 devices, but also for streamlined recovery of the entire device configuration, setup and applications.
Recover individual files and folders
Rollback from ransomware attacks
Restore lost or stolen PCs
Reliable PC Backups
PCs move between networks or get powered off, making it difficult to get reliable backups. Cloud Backup for PCs backup automatically pauses when the device has its connection interrupted and then automatically resumes once the connection is restored. Integrity checks, like Screenshot Verification, validate every backup and provide an alert if there are any issues. This takes the guesswork out and ensures backups are good for a reliable recovery.
For one simple price it protects the primary OS volume of an endpoint device up to 1 TB in size. Backups are available with 1-year time-based retention (TBR) in the Cloud.
Key Features
Image-based Cloud BCDR
Automatic backup pause and resume
Screenshot Verification
File Restore
Bare Metal Restore (BMR)
No additional appliance required
No storage management required
One price, no additional fees
Operating System and Hardware Compatibility
Supports Windows 10 (64-bit) and Windows 7 (64-bit)
Requires 1 GB of free RAM on protected device
Protects the primary OS volume (single-volume) up to 1 TB in size
e-book: Backup & Data Protection for Growing Businesses
What You Need to Know About Keeping Business-Critical Data Accessible
Why Partner With Verity IT for Your Backup and Disaster Recovery?
Verity IT goes beyond traditional backup to deliver business continuity and disaster recovery solutions to our clients. Our solutions provide cross-platform server, application and virtual machine data protection to ensure your business can continue to operate through an event. We ensure:
Your organization will have access to its data when needed.

Complete backups — not just files — for total data recovery.

Fast backups that cause zero disruption to your day-to-day business.

Immediate backup restoration that minimizes downtime after a disaster.

Hourly backups — keeping your most recent data is safe.

Replication to the cloud to protect your data from natural disasters, fire and theft.
Our proactive solutions provide complete business continuity, protecting business networks of all sizes.
Ready to Get Started with Managed Backup Services?